Hey Uprofiter! 🚀
Want to know how the monthly subscription works? Here you will find everything you need to know 😉
Please note that the monthly subscription renews every month 📆 from the first payment. This subscription will remain active until you reach yourprofit goaland switch to the Live Account, or you can cancel your subscription from your Control Panel directly🎛️
💳 You can pay your monthly subscription with Visa, Mastercard, PayPal, Cryptocurrencies, or PayRetailers (only available for LATAM).
Remember, monthly billing does not reset your account balance for rule violations ⛔
You need to check this out 👇
Failure to comply with any of the rules does not mean that the subscription will be canceled. In order to cancel your subscription, you will need to do that manually from your Dashboard.
Additionally, please keep in mind that, if you cancel your account or monthly payment option, then this immediately cancels your evaluation program and your account can no longer be approved.
🚨Once the trader has been notified of a rule violation, either by email or via RTrader, the account is no longer valid for program approval. But don't worry! If you break a rule and you want to continue with your evaluation, you can restore your account by applying for a Reset🔁
If you decide not to reset your account, please note that it will still be active and you can trade with it just for practice 🤓
Do you want to cancel your subscription?
📢 This is important for you: When your subscription is up for renewal and you have a broken rule, we will give you a free reset so that you can continue your evaluation program as usual 🙌😉
APPLIES TO ALL PROGRAMS 🔥🙌🏼

🚨REMEMBER THAT YOU NEED TO REQUEST THE RESET, IT WILL NOT BE APPLIED AUTOMATICALLY.
AUTOMATICALLY.

🚨ONLY APPLIES TO THOSE WHO HAVE HAD THEIR SUBSCRIPTION RENEWED AND HAVE BROKEN A RULE.
You can cancel your subscription and account, from your Dashboard directly. See how to do so below:
🎛️ Access your control panel by clicking "Dashboard" at the top right corner of your screen.
🖥️ You'll see a ''Subscriptions'' option on the left, select it.
❌ Select the program or account you want to cancel, click on the ''✖️'' icon and you're done!

Remember that you must cancel your subscription at least one business day before the next billing date.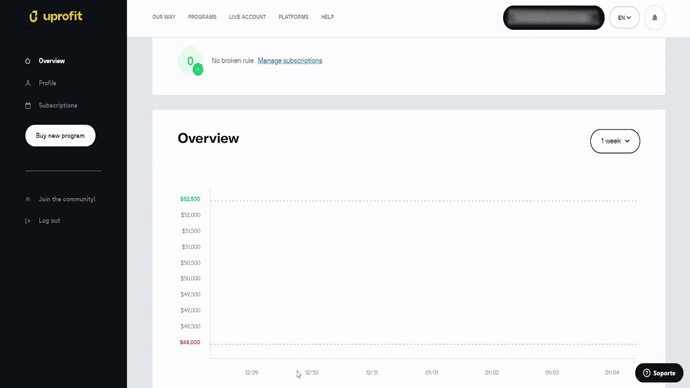 You can email support@uprofittrader.com for assistance if you need any help canceling your subscription and/or your account from the Dashboard. We will be happy to help you out😉
🚨 If you don't cancel your subscription at least one business day before the billing date, it will automatically renew.
Take a look at this info🔎
What payment methods are allowed?
What is a Reset?